Bryan ISD officially kicked off the story of the Ruby Haliburton Auxiliary Complex on a bright, sunny January 19 with a long-awaited groundbreaking ceremony.
"The journey begins today," Bryan ISD Superintendent Ginger Carrabine told local media outlets.
Dirt work has begun on the site on Leonard Road near FM 2818, and Carrabine said construction will begin immediately with an anticipated completion date of June 2024.
The new facility, which is funded through the 2020 Bond, will be the new home for the district's maintenance, transportation, custodial, warehouse, records management and school nutrition departments.
"In Bryan ISD, our vision is 'Children First. Always,'" Carrabine said during the ceremony. "… Every single decision was grounded in the best interest of children. We know that we cannot meet the needs of our children in our classrooms without the maintenance and operations department. We know that the maintenance and operations team – all the departments who will move into this wonderful facility – are the unsung heroes, often behind the scenes, doing everything that they need to do to prepare for our students to walk through those school buildings every day."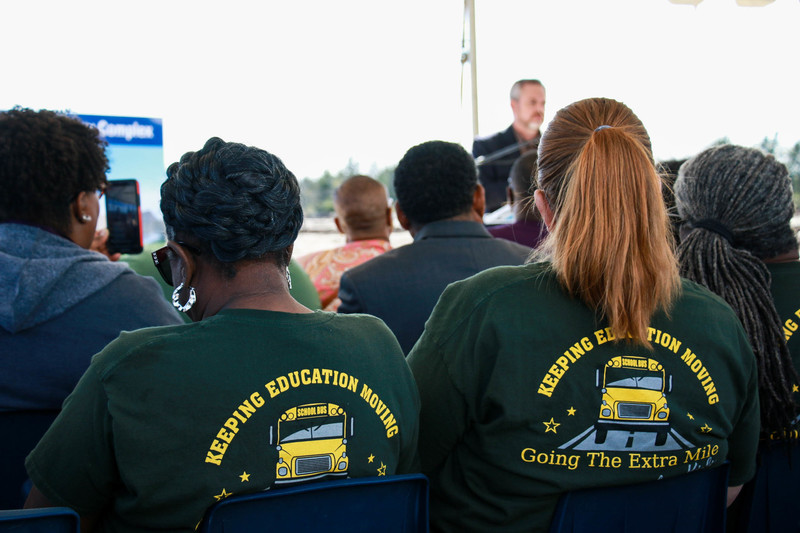 Board member Mark McCall said the need for the facility has been more than a decade in the making.
"We often heard as a board, 'Don't worry. Take care of the other priorities; we'll make it work.' And they did. They made it work," he said. "They met all the challenges. But I'm very excited to say that their time has come and the timeline begins now."
"Our staff deserves this," Carrabine said. "… The facility is going to be a beautiful addition to the Bryan ISD community and the city of Bryan."
The name for the complex was announced in February 2022, named after the late Ruby Haliburton, who had a 36-year career in Bryan ISD as a school bus driver. Her daughter Rhonda Dunn said in those 36 years, her mom only missed two days of work.
Marilyn Mitchell, a dispatcher and driver in the Bryan ISD Transportation Department, called it a blessing to work with Haliburton, saying she embodied all eight of the Essential 8 character traits of kindness, tolerance, gratitude, philanthropy, work ethic, optimism, courage and leadership.
Mitchell said Haliburton was dedicated to doing what needed to be done for the students.
"She was there to make sure that her route was covered because she cared about her children – and that's what we call them when they get on our bus," she said. "They're our children because we're leading them onto that path. We're bringing them so you can teach them."
Many of Haliburton's family members and friends attended the groundbreaking ceremony and helped turn the first shovels of dirt at the site where in 2024 a beautiful facility will stand.
Carrabine said it meant a lot to have Haliburton's family members and friends in attendance, and the school district gifted Dunn and Haliburton's family with a commemorative shovel to remember the day.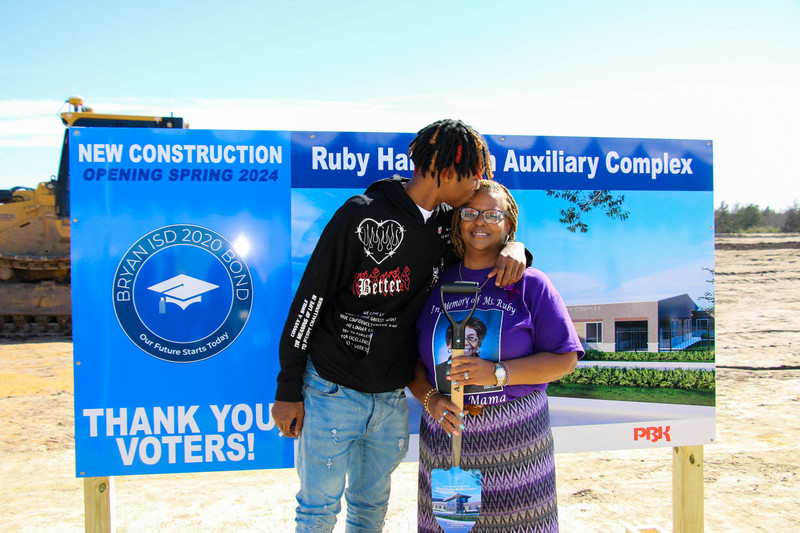 Dunn said she and her family are "ecstatic" to celebrate the beginning of the new auxiliary complex, saying the district could not have selected a better person to honor with the name.
Mitchell, who has been in the district for 42 years, said it was an honor and a privilege to speak during the ceremony and to have worked with Haliburton.
"As we go into the Ruby Haliburton Auxiliary Complex, each auxiliary that walk through those doors, let's walk through them with a spirit of excellence because that's what she had," Mitchell said. "She had a spirit of excellency, so everything that you do – maintenance, custodial, transportation, records – when you go through those doors, do it in the spirit of excellency; that we can do the best and be the best for Bryan ISD."